Discover our latest spa and aquafitness innovations!
Paragraphes
Ckeditor
Combining fitness and relaxation in often luxurious surroundings, the water wellness phenomenon - pools, spas and aquafitness centers - are becoming popular like never before. Piscine Global Europe shines a light on the latest innovations in this exciting sector!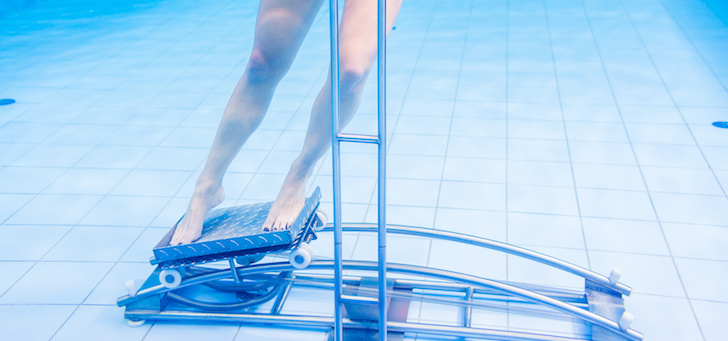 Responding to changing customer expectations
Always ahead of the pack when it comes to industry innovations, Piscine Global's new wellness package aims to give clients an unforgettable experience.
Today, the world of wellness is growing faster than ever before. New trends and innovations include aquabiking, state-of-the-art saunas, and even outdoor or all-weather facilities, such as Swedish steam rooms.
As a result, Piscine Global has decided to examine the latest industry development with a focus on lifestyle and wellness. As well as efficiency and innovation, design and functionality are incredibly important in ensuring client satisfaction.
Spa meets aquafitness in a fun environment
The growth of the wellness industry in both the public and private sector – a phenomenon that attests to the importance of a healthy mind as well as a healthy body – doesn't look set to step any time soon. As a result, Piscine Global Europe has adapted next year's exhibition to allow visitors to spot wellness-related offers at the drop of a hat.
Commercial swimming pools
Clients no longer pay a visit to the pool just to swim a few lengths. Today, many pools and gyms offer a variety of different facilities and water-based activities, from aquabiking and aquafitness to aquaboxing and poolbar, all of which offer numerous advantages for sports enthusiasts - lowered perception of effort, improved muscle recovery, and lower impact.
What's more, many aquatic fitness centers now offer wellness spaces including saunas, steam rooms and relaxation areas. Some well-known sports centers, such as France's Caliceo chain, have introduced a thalassotherapy (seawater therapy) package, including moulded baths and pools, outdoor pools, underwater seating, current therapy and spa facilities.
Innovations like these are proving incredibly popular with the public, many of whom are willing to spend a little more in exchange for access to high-quality facilities. This makes the wellness trend a key part of Piscine Global Europe's upcoming exhibition.
Piscine Global Europe's 2016 exhibition allowed visitors to discover another emerging trend. Among individuals looking to build or modify a home swimming pool, more and more are seeking extras such as an aquabike or counter-current functionalities.
Today, the wellness phenomenon can be found in our bathrooms, our homes and even in our gardens, with hot-tubs or outdoor spas now found alongside traditional pools. As a result, it's important that professionals and private sector experts stay up to date with the latest industry innovations in order to respond to changing customer demand.
Discover Piscine Global Europe's Commercial Pool Village!
Taking into account these key industry changes, how can the wellness industry adapt to improve spas, pools and aquafitness centers? Focusing on the latest developments, innovations and releases in both the public and private sector is crucial.
For more information, don't miss Piscine Global Europe's upcoming trade show!
Photo credit: Fotolia / Kzenon